Focus Drive for Meiji Techno EMZ stereo microscope
Introduction
This is a focus drive for Meiji Techno EMZ series stereo microscopes. The focus drive allows precise, computer-controlled, vertical positioning of the microscope. Ideal for taking enhanced depth of focus pictures ("Focus stacking"). Resolution is better than 20µm per step.
The focus drive allows you to motorize an existing Meiji Techno EMZ microscope. Exterior is aluminium with stainless steel screws. Weight is approx. 1.250kg. A limited amount of customizing is possible; ask for details.
The focus drive can be installed both above and below the microscope focus block.
Supports microstepping at 16 microsteps/step.


Movie of the focus drive in action.
In this demo movie a dial indicator shows the position of the microscope while the focus drive

first moves 10 steps, one step per second, at 19.2µ per step.
then moves 16 microsteps, one microstep per second, at 1.2µ per microstep.
and finally returns to the origin.
In the movie, one division of the indicator scale corresponds to 0.01mm vertical movement of the microscope.
A manual further explains use of the focus drive. Drivers for Micro-Manager microscopy software are available.

The Meiji Techno EMZ microscope, microscope stand and dial indicator shown are not part of the product.
Resolution
19.25 ± 0.1µm/step
16 microsteps per step, 1.2µm/microstep
Product description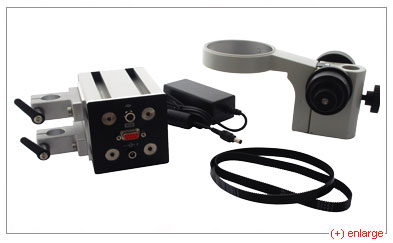 The product includes:
focus drive motor.
modified Meiji Techno FC ("Fine/Coarse") focus block.
24V power supply.
two (2) drive belts.
software for use with Microsoft Windows.
Other items shown are not part of the product.
Optional accessory: joystick for standalone use.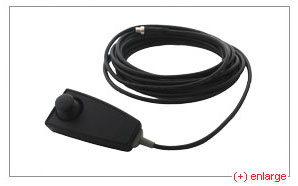 Price
Price, excl. VAT and shipping: 1499 €
Consult for delivery time.
Payment by bank transfer or using Paypal. Contact me for details.
Links
Downloads
Last update page: December 16, 2010.